Paoletti Guitars have spent the last few years getting four ranges (and multiple models) into a production system, with a team of artisans at their custom shop in Tuscany, Italy.
All of the guitars produced, no matter which colour or design, have the body made of the same reclaimed wood, the old chestnut, recovered around Italy from wine barrels – so you get vintage wood on a brand new guitar!
The four series are Wine, Loft, Leather and Lounge. The guitar that shows exactly what Paoletti Guitars are about is the Wine series, but even the Leather Series, with the Italian leather top on it, showcases Italian craftsmanship and the spirit of Italy, which is also well represented by the Loft series, made with a touch of Vintage style and a finish called "Pickled", the Lounge series is the development of the Loft into the world of blues and Jazz, offering semi hollow body and chambered guitars with piezo-acoustic systems.
This is the Paoletti Nancy Loft Series guitar which features their signature Chestnut body, roasted maple neck, and Paoletti's handmade pickups.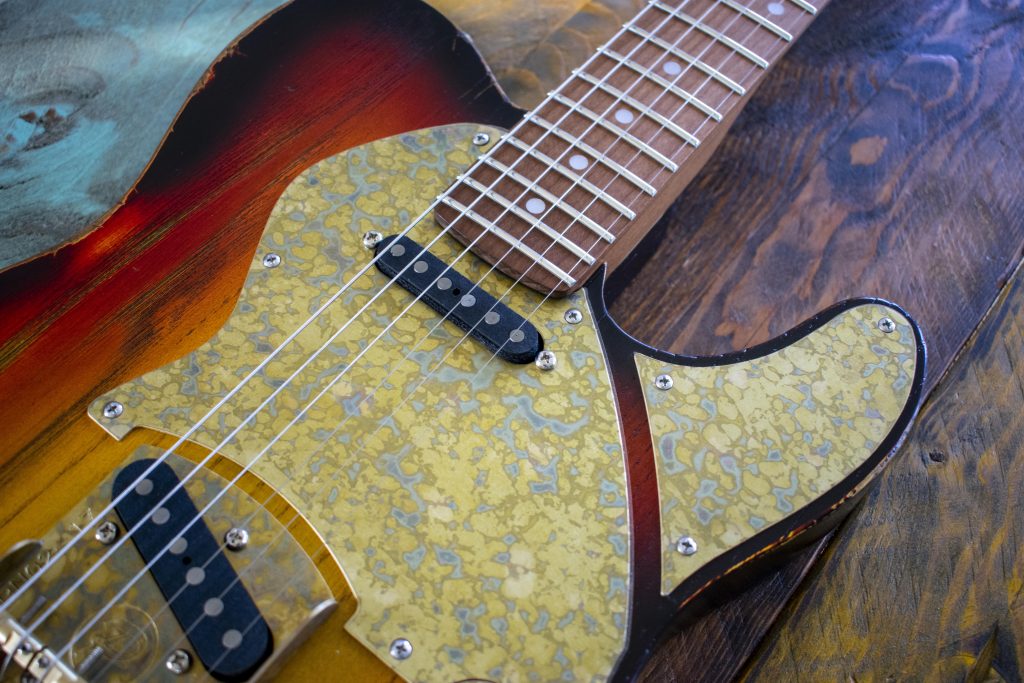 The Paoletti Loft Series guitars recall those fabulous centuries old 'Cinque Terre' seaside villages on the Italian Riviera – with a worn antiqued look with the signs of age on the body – which is why he calls them "pickled".
Specs:
BODY MATERIAL – Chestnut
NECK MATERIAL – Roasted Maple Neck
NUMBER OF FRETS – 22
FINGERBOARD RADIUS – 12″
SCALE LENGTH – 648mm
BRIDGE – Paoletti Bridge
TUNERS – Kluson
PICKUPS – Paoletti Pickups
PICKGUARD – Brass
WEIGHT – 3.5kg to 4.5kg
CASE – Hardcase
MISC – Certificate of warranty & authenticity
More about Chestnut…
Experience vintage tone, on a brand new guitar!
Chestnut wood essence has a lot of layers of tone, with a high number of harmonics, a very important feature to a guitarist's sound. It offers a flat and malleable tone that's a bit focused on middle-bass frequencies, which can be changed fast when paired with a different neck wood. Paoletti offer roasted maple/black wood teak for rock and players of heavier music and a roasted maple neck for more blues and blues-rock-oriented guitarists. Every maple neck, is hard maple from Canada, roasted in Italy at our facility. Another important feature of the wood is its high sustain, chestnut is king of this.
If you want to know more about this guitar, or any of the other Paoletti Guitars we have in the shop, give me (Stephen in guitars, not Steven in keyboards) a call on 01524 410 202.