Just arrived in the shop are a few new ranges from Simon & Patrick over in Canada which include Trek, Songsmith and Woodland.
Trek
The luthiers at Simon & Patrick challenged themselves to create an affordable acoustic guitar while living up to their build quality and keeping the assembly in Canada, which they have definitely accomplished with this range.
Featuring wild cherry tops with back & sides made of a 3-layer lamination of real hardwood, silver leaf maple necks, rosewood fingerboards & bridges, burn stamped rosettes and custom polished finishes, these guitars are simple, yet stunning.
Songsmith
The Simon & Patrick Songsmith delivers incredible value, impeccable craftsmanship and a sound that will inspire players and fledgling songwriters to get that tune inside of their heads out to the masses.
Available in both dreadnought and folk size models, the Songsmiths feature wild cherry back and sides along with Select Pressure Tested solid spruce tops delivering a very responsive and well-balanced sound. The procedure of pressure testing each top ensures that only the best quality tops will be chosen for their high level of stiffness and rigidity, which translates to an optimal level of harmonic vibration in the top.
The comfortable necks on the Songsmiths are made from silver leaf maple and feature the new Integrated Set neck system, which adds increased stability through varying changes in climate. Other features include the vintage appeal of a semi-gloss varnish burst finish, wood inlay rosette, contoured headstock, cream double binding, a double function truss rod and Tusq nuts and fully compensated saddles.
Woodland
Previously known as the Satin Series, the Simon & Patrick Woodland series guitars are built with the same attention to craftsmanship and sound as their high-end Showcase series.
The Simon & Patrick Woodland models feature Select Pressure Tested Solid Tops in solid cedar or solid spruce, both offering excellent response and projection. The back and sides are made from a 3-way lamination of authentic hard wood. These back and sides, along with the solid tops, are finished with a custom polished finish that will not impede the sound quality of the instrument, in comparison to a thick polyester finish that will muffle the true sound of the guitar. The comfort of the silver leaf maple necks in the Woodland series comes from the process of individually buffing and sanding each neck by hand. Found and harvested in North Eastern Quebec, Silver leaf maple is a wood with a similar density to mahogany but much less porous, which allows for it to be treated to an incredibly smooth finish.
Delivering a sound and feel comparable to acoustic guitars twice their price, it's easy to see and hear why the Simon & Patrick Woodland series guitars have truly struck a "chord" with acoustic players the world over.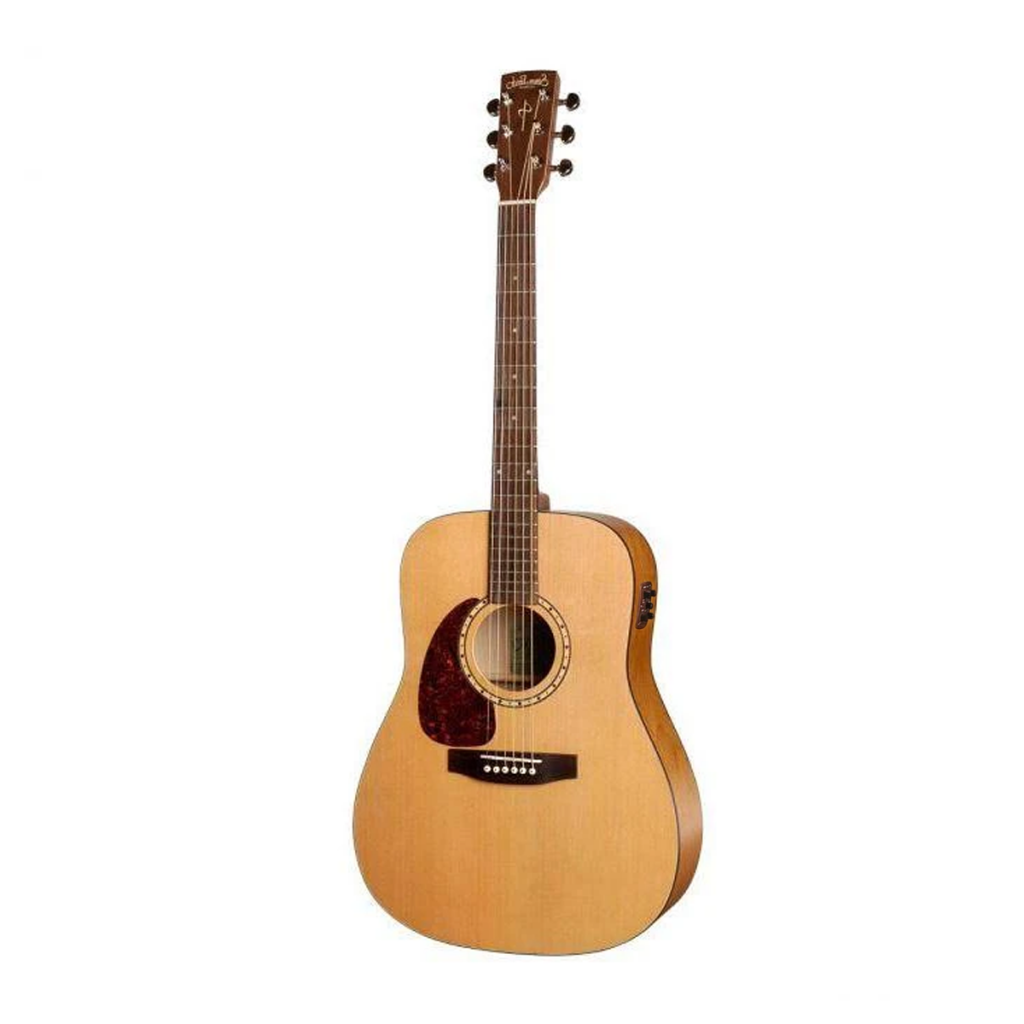 If you would like to know more about these fantastic instruments, give us a call on 01524 410202!