Electric Feel, Acoustic Sound, Classic Fender Style
Supremely comfortable, California Series guitars' slim-taper "C"-shaped mahogany necks are inspired by our electric legacy, giving them the same outstanding feel that's great for any playing style. The matching painted 6-in-line headstocks are immediately recognizable and exude a Fender Custom Color vibe.
Three Body Styles
The new body shapes of the California Series feature refined geometry and unique bracing patterns designed for responsive, articulate tone. California Series guitars' distinctive shapes and colors are for visionary artists who aren't afraid to stand out from the crowd, while the California Series' well-balanced sound matches any style of music.
Malibu
The short-scale, compact Malibu can go anywhere, and it's well-balanced sound matches any style of music.
Newporter
Comfortable and inspiring, the mid-sized body of the Newporter has a punchy sound that easily blends with vocals.
Redondo
Large and bold, the Redondo commands the room with big bass and plenty of volume.
Matching Headstock
The matching painted 6-in-line headstock found on all California Series acoustics is a Fender tradition that started in the 1960s on special limited runs of electric guitars.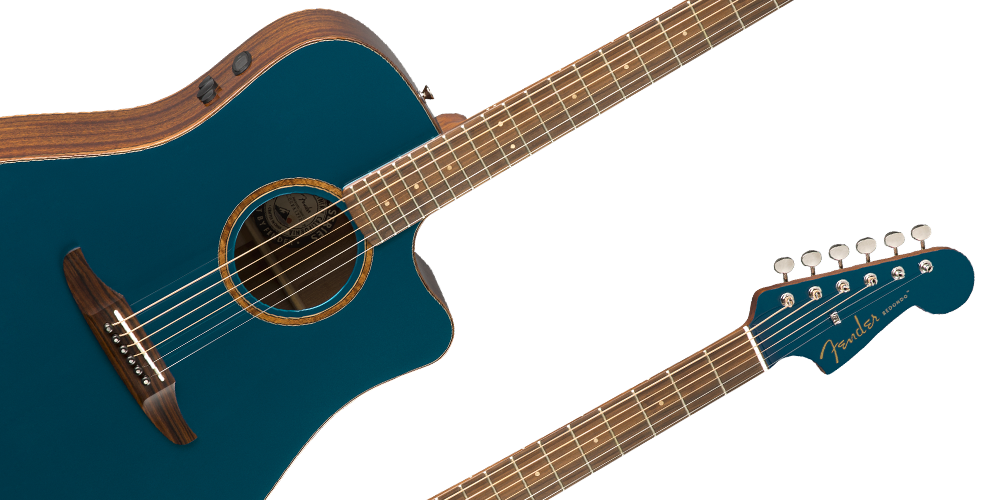 Three Tiers
California Classic
Richly painted solid sitka spruce tops and natural solid mahogany backs and sides, as well as matching painted 6-in-line headstocks and koa binding and rosettes, give them an elegant two-toned aesthetic that was made for the stage.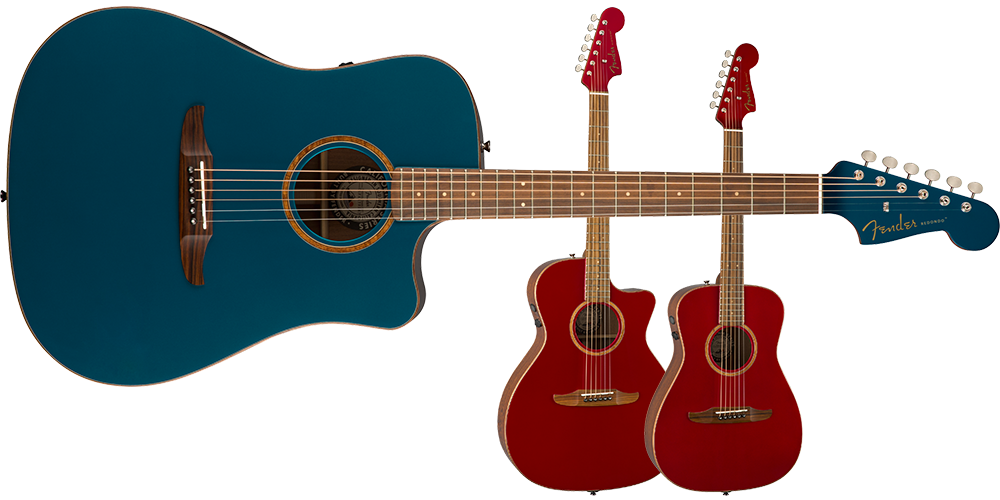 California Special
Optimized bracing reduces mass for superior resonance while the upgraded bone nut and saddle grant them exceptional sustain. The fully painted sitka spruce tops, matching 6-in-line headstocks and maple binding and rosettes give them a shot of electrifying attitude and unconventional Fender® style that loves to be both seen and heard.
California Player
California Player acoustics feature lightweight mahogany necks with easy-to-play, slim-taper "C" – shaped profiles, suitable for any playing style. With their superb playability and one-of-a-kind looks, California Player guitars are uniquely Fender – standing out among a sea of nearly identical acoustic instruments.
Electronics
California Special and California Classic acoustic guitars are equipped with a specially voiced PM preamp designed by Fender and Fishman. These special PM preamps are tuned to complement the unique shape of each instrument – complete with with tuner, frequency and phase controls.
California Player acoustic guitars feature a standard Fishman pickup/preamp system for incredible amplified performance with pure, rich and resonant tone.
We have a selection of these guitars in store now, so feel free to come and try them out. To view the range available, CLICK HERE.