Ukuleles have become hugely popular in the past few years, thanks in part to schools taking them on in place of the classic recorder, but also to the number of ukulele clubs that are popping up all over the area from Morecambe to Garstang to Kendal and beyond.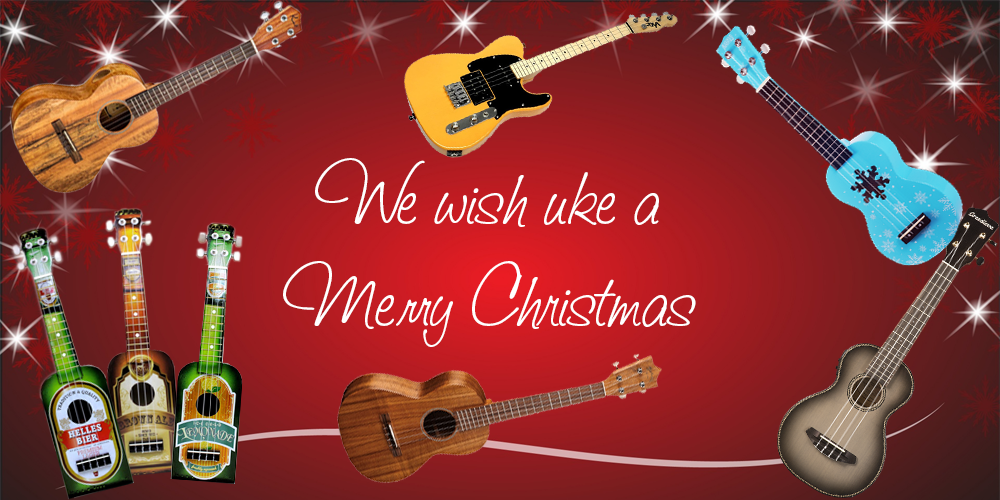 We've got an array of ukuleles from sopranos to baritones that make excellent Christmas presents whatever your budget.
Under £50
There aren't many ukuleles under the £50 mark that we would call a "proper instrument", but there are some.
Baton Rouge UR11S Soprano Ukulele – In Store Price – £49
This little soprano punches well above what the price tag suggests. Although laminate mahogany all round, it has a loud and clear sound. At the moment, you can pick one of these up in the shop for £49.
Nukulele – Bottle Shaped Soprano Ukuleles – £25
Although these ukes look like a novelty, they are actually well crafted instruments equiped with Aquila strings and quality machineheads, so not only does it make a great sound it will stay in tune longer than other instruments for the same price. Pick one up today for £25!
Mahalo Blue Snow Soprano Ukulele – £22
Definitely one for fans of a certain animated film, this soprano is a great starter instrument for children.
Under £100
Between £50 and £100 the choice starts to open up for "proper instruments" in a range of sizes.
Kai KTI30 Tenor Ukulele – £99
Tenor ukuleles are the largest of the ukulele family while still remaining in GCEA tuning. This Kai Tenor ukulele is not only impressive to look at (thanks to the unique look of Mango), it sounds great too!
Ohana 10 Series – £77 – £99
Ohana's standard student models are the perfect combination of quality and affordability. These laminate models are finished in a satin finish that brings the graining to light.
The Concert model (CK10) is currently £77, while the Tenor model (TK10) is £99.
Money's No Object
If money's not an issue this Christmas, then there are plenty of instruments we could recommend. From the classic, traditional looks of the Martin 0XK Soprano Ukulele to the rock and roll inspired Risa TE Electric Tenor Ukulele.
Martin 0XK Soprano Ukulele – £375
The Martin 0XK Uke was the first ukulele model offered as part of Martin's popular X-Series. This instrument's soprano-size top, back and sides are constructed from Hawaiian koa-pattern high pressure laminate (HPL). With its strong Stratabond neck and durable HPL body, the 0XK Uke is perfect for moonlight serenading on the beach, or in the snow, depending on the time of year.
Risa TE Electric Tenor Ukulele – £459
It's often been said that the Risa LP Ukuleles are as much fun as you can have with your clothes on, but for Keith Richards/Bruce Springsteen fans, there was little on the market. Not anymore, thanks to the stunning electric Risa tenor ukuleles.
If you want to know more about any of the ukuleles mentioned above, or if you want to know what other ukuleles we have available, feel free to give me a call on 01524 410202.