Do you know a synthesizer freak? Looking for a perfect gift or want to know what to buy them if you yourself aren't an avid synthesizer player? Well we have compiled a definitive gift list for all budgets of all the synth-sational products available at Promenade Music.
<£20 – Professional Patch Cables
It may seem boring, but your loved one's synthesizer is of no use without proper cables! Our range of Professional Patch Cables from Stagg will have the right fittings and specification for nearly any synthesizer available on the market and with their high quality ends, the synth's audio will sound crystal clear.
£43.00 – IK Multimedia iRig 2 Analog Interface
Yes, this is designed for guitars, but by using the iRig 2 allows you to plug your synth into any Android Mac or iOS Device (with a headphone jack) and unlocks recording possibilities, using apps such as Garageband , or the ability to plug your synth through new effects units, using the included Amplitube app. A fantastic little product that can simply and easily give life to older synths and allow your loved ones to start recording!
£69.00 – Akai MPK Mini MkII Midi Keyboard
The compact Akai MPK Mini MkII keyboard is designed for the travelling musician or producers who are limited for desk space.  MIDI stands for Musical Instrument Data Interface and this keyboard connects to laptops, Macs and other computers so that you can play virtual instruments on a variety of software – this Akai comes bundled with three (MPC essentials, Hybrid 3 and Wobble) What the MPK Mini lacks in size it more than makesup for in features – boasting 25 mini keys, 8 backlit pads, 8 assignable knobs and joystick-style pitch and modulation control to relive those arcade music memories!
£85.00 – Alesis M1 Active 330 USB Studio Speakers
What good is a perfect synth or midi set up if you can't hear it?! The M1 Active 330 speakers are a perfect solution for the home studio. With aluminium woofers for punch low end bass lines and 1" tweeters for clear and bright melody lines, the M1 Actives are suitable for a wide variety of settings. They come in a pair and have all the connections you could need to hear your music as you intended it to sound.
£108.00 – Tascam DR05X Hand Held Digital Recorder
The portable digital recorder is the musician's notebook, enabling them to capture ideas when the moment of inspiration hits. And for synth players who possess the ability to manipulate and play samples, portable recorders turn the whole world into your library of sounds. The Tascam DR05x is the new standard for handheld recorders and can also double up as a USB interface so you can play your synth through the recorder to capture ideas, or use the recorder to help you record directly onto your computer. With so many options this really is a very useful little box!
£119.00 – The original Korg Volca Series
Now things start to get really interesting. The Korg Volca series is a fantastic range of simple but powerful synthesizers. The Volca Drum, Volca Kick and Volca Beats are drum machines that have their own unique characters. The Kick is designed to be an expressive kick drum sound, especially great for programming thumping electro drum beats. The Beats is a modern take on the classic analog drum machines of the eighties, leaning more towards hip hop and classic house sounds. Finally the Volca Drum is the epitome of digital drum synthesis and gives you unparalleled control of the variety of sounds a digital drum engine can give you. As with all of the volca range these drum synths are best played by utilising the built in 16 step sequencer, and their various memories, stutter functions and shuffle effects lead to a very expressive instrument for live performance as well as recording.
Moving into things that are a little more melodic, we have the Volca Keys and the Volca FM. The Volca keys is a fantastic analog synthesizer that can create everything from lush sweeping pad sounds to short stabbing melody lines. The Volca FM uses similar Frequency Modulation technology to famous synths of the eighties to give you that classic synth sound that is so synonymous to the era. With the MIDI input you can play using a full size MIDI keyboard or use the built in keyboard and program elaborate sequences. Sync any Volca together with other Korg synths or indeed other Volcas with ease to create truly unique and performance ready rigs!
We also have the newer additions to the Volca range in stock. The Volca modular (£148.00) is an introduction to West Coast style Modular synthesis and the Volca Nubass (£159.00) is an acid bass synth that incorporates vacuum tube technology for an extra kick.
£189.95 – Roli Lightpad Block M
The Roli Lightpad is like no other instrument you have seen before! The Lightpad links to your phone or computer and gives you a new world of expressive musicality. With 200+ buit in sounds, and software bundles available to access more, the Lightpad Block M is a musicl touchpad that senses up to 225 microkeywaves that can trigger pitch, expression, modulation and glissando controls. With a fantastic ability to seamlessly link with the other blocks in the Roli range you can start to build your instrument to be specific to your needs that can help you create truly unique music. And it all starts with this little block.
£209.00 – Roland SPD1 Wav Pad
The Roland SPD1 Wav pad is a rugged sample trigger that can play anything from single effect shots to full length tracks. The Wav pad allows you to supplement your performance rig by importing your own samples and lets you trigger them with drum sticks, your hands or even your feet! You can store up to 12 samples on the device and easily switch between the sounds you want to trigger. The inbuilt click that only feeds into your headphones means that you can use this to keep you in time throughout your performance. No matter how you use it, the SPD1 Wav Pad is a simple and flexible way to expand your sound palette and invigorate your performances.
£269.00 – Yamaha Reface Series
Like the Korg Volca range, the Yamaha Reface series is a range of synthesizers that all do different things and sound massive from such a small frame. Unlike the Volcas, the Refaces use familiar microkeys and lend themselves to live performance rather than sequencing. The Reface CP is a mini stage piano and recreates sounds akin to those of the famous Fender Rhodes, Wurlitzer and Clavinet electric pianos – there's even a toy piano sound in there too!  The Reface DX is a mini FM synthesizer that recreates those famous synth tones of the 80's and also includes an integrated phrase looper so that you can really build up the sounds. The Reface YC is a mini organ and features sounds of classic Yamaha, Hammond, Vox, Farfisa and Acetone organs. It also includes real tiny drawbars for you to have more control of the tone. There is also an emulated rotary control so that you can change the speed of the speaker, similar to a Lesley.
All the Reface synths also feature dedicated built in effects so that you can really expand their tone. Personally, I think that using the Rhodes setting on the Reface CP with a little bit of drive and a deep reverb is the nicest electric piano sound I've heard in the shop!
£299.00 – Roland Boutique SH01A Synth Module
The Boutique range was Roland's answer to the deluge of classic synth reissues that have dominated the market in recent years. This model in particular is an updated look upon the infamous Roland SH101, one of the most popular classic synthesizers of all time. As this is a module, you will need to connect a MIDI Keyboard to use it, but what that means is that you are getting a lot more synth for your money! The SH01A is a true work horse, and can create truly fascinating sounds. From deep bass lines, to swaying melodic leads as well as FX and noise voices, there isn't really much that the SH01a cannot do. The original was a mono synth, and those unique characteristics are still available on this new model, but with modern technology new things are possible and Roland have added Poly, Chord and Unison modes so that you can further expand the possibilities of this little grey slab of goodness. The inbuilt sequencer also means you can use the SH01a for driving, thumping arpeggiators and patches.
£339.00 – Korg KP3 Kaoss Pad Effects Processor/Sampler
If you are looking to buy your loved one the coolest looking piece of gear then look no further! This mish-mash of flashing lights and fancy effects is a proper instrument – well – a proper addition to their instruments at least. The KP3 is an effects processor and sampler that is well loved by DJ's, music producers and beat boxers alike. The intuitive design and amazing flexibility of the acclaimed touchpad allows Kaoss Pad 3+ users to easily control multiple effects and parameters by simply stroking, tapping, or rubbing the Kaoss touch pad with their finger. Using this remarkable design, you can easily control and perform with effects in complex ways that would be impossible on a conventional effects unit. There are over 150 effects on board and the looper can also be used for specific stutter or freeze effects that allow the user to remix their own music on the spot! The mic input also lets users sample, record and transfigure their own speech – perfect for geeing up a crowd!
£349.00 – Roland TB303 and TR08 – the classics re-born!
When you ask a synth freak to name two of the most classic synthesizers to have ever shaped history, I would be very surprised if they weren't to name the Roland bass synth the TB-03 or the Roland Drum Machine, the TR-808. Iconic due to their use in Acid, House, Hip-Hop and early Rap music, buying an original of either of these powerful little synths would cost you easily over £1,000 each! But now, thanks again to the Boutique range of re-issues; they are available at a fraction of the cost – and with some nice modern additions to boot!
The TB303 is the definitive bass synthesizer, and sequences are still programmed the same way as the original. The 16 step sequencer has had some of the most recognisable bass lines programmed onto it, and I recently enjoyed programming the bass breakdown of "Da Funk" by Daft Punk onto this little machine. The modern features added are the overdrive channel that adds a little fuzz to the notorious squelch of the frequency filter as well as power over USB and an inbuilt speaker.
The TR08 is the continuation of the classic tones of its predecessor. Originally overpriced and designed as an accompaniment to Japanese organ players – the 808 was wildly unsuccessful stateside and ended up in the bargain bins of music stores of New York and Los Angeles. It was in this unlikely place that they found their true success, in the hands of aspiring hip-hop musicians, DJs and rappers. Now with modern additions such as programmable pre-sets, USB power and trigger out, the iconic tones have never been easier to programme and capture.
£389.00 – Korg MicroKorg XL +
There are three MicroKorgs currently on the market, and I have chosen to include the XL + for one simple reason, just look at how sleek this thing is! With some of the best synthesizer sounds available, this is a perfect introduction to the world of synthesis. It's easy to use layout means you can flick through the pre-sets easily with the satisfyingly large click wheels. One dial selects the genre, from pop to dubstep to 70's retro sounds. The Second wheel selects the category, so if you need a bass sound, turn to Bass, if you need a lush sounding chord then select Pad/Strings. Once you've selected your genre and category you can choose from programme A or B, then if the sound still isn't quite right – dive into the menu to edit Amp EG, Filter or Effects settings – or if you want to start from scratch hit Full Edit. This is also the first synthesizer on this list to include a vocoder – which is a whole other art form and adds breathy or robotic vocals to any performance. All of this adds up to the MicroKorg XL+ being, in my mind, the definitive MicroKorg selection.
£444.00 – Akai Pro Advance 61 MIDI Keyboard
The granddaddy of Midi keyboards, the Akai Pro Advance is the pinnacle of control for virtual instruments. Boasting more control and more interactivity to execute menus directly from the touchscreen, you can move away from the computer and focus more on the music. Basically, with the Pro Advance series, you can turn the keyboard into any synth that you have downloaded onto your computer and control it as you would if you had it as a dedicated synth itself – don't worry if you don't have any downloaded as yet – because it ships with over 10,000 sounds in the box! It truly is a deluxe controller and can expressively emulate almost any synth that there has ever been!
£549.00 – Roli Seaboard Rise 25
A wise, bespectacled man once wrote that this may look like someone's got some Cadburys Chocolate Fingers and covered them with rubber, but in fact this represents a whole new wave of keyboard design!  The Seaboard Rise is a revolutionary MIDI controller that is exceptionally expressive and easy to use. Squishy in all the good ways, the keys react to the slightest of wobbles and when paired with the bundled software, Equator, these virtual instruments can take on very realistic tonalities. The best way to understand the Seaboard is to see one in action, seeing a musician playing the piano but making it squeal like a distorted guitar,  float like a flute, glissando like a trombone or sting like a fuzzy synthy bee – is something quite extraordinary, and something entirely unique to Roli and the Seaboard range.
£599.00 – Roland Aira TR8S Drum Machine
This is my favourite drum machine we have had in the shop. I'm a guy who loves to explore the presets on new and exciting synths and with everything from classic Berlin house presets to the grimy track titled "Rap with Me" which is a thinly veiled tribute to Stormzy's "Big for your Boots" – the TR8S has offered me hours of fun and expression, much to my colleagues' annoyance. The TR8S is a drum machine plus. The S stands for Sampler and any sample can be loaded into the device's memory through an SD card and this allows for instrumental hits or vocals to be integrated into your sequences. Each instrument has its own dedicated channel to control pitch and volume as well as mute or mixing capabilities. Kits can be either selected from the vast library, including realistic sounding acoustic kits and classics such as the 808 or 909, these can then be augmented by the addition of your own samples or you can build an entirely new kit to your preferences. There is an 8 chain mode meaning that you can perform classic chorus-verse-chorus structures or remix tracks live. It truly is one of the most impressive and expressive drum machines I have ever mucked about with.
£1,295.00 – Korg Prologue 16
I am going to finish this list with the Korg Prologue, we could go on further if we explore the workstation range and especially the Nords – but for pure synthy goodness, the Prologue is my top pick. When we first got the Prologue range in I was just blown away by the power of the thing! Massive voices, powerful filter and it is one of the physically larger synths we sell. The prologue boots up and the first preset you are hit with Is Runner Brass  – no doubt a nod to the soundtrack of Bladerunner. Sweeping lush pads and proper deep notes, the Prologue makes all of the other synths sound rather thin and toy-like. No sequencer is included in the actual synth, but thanks to Korg's brand-wide connectivity – you can hook up an SQ-1 sequencer to program using the Prologue. One thing that is so impressive about the Prologue, is its mix of preset sounds combined with analogue tweaking. Meaning you choose a sound (out of the 250) and tweak it your liking. Or if you are looking to really flex your dials – you can choose one of the remaining 250 memory slots to build up your tone from scratch, starting from the initial program noise.  A synth that is not cheap, but highly worth it – the Korg Prologue mixes the best of digital and analogue styles into a truly powerful synth for studio or stage.
£Priceless – The look on their face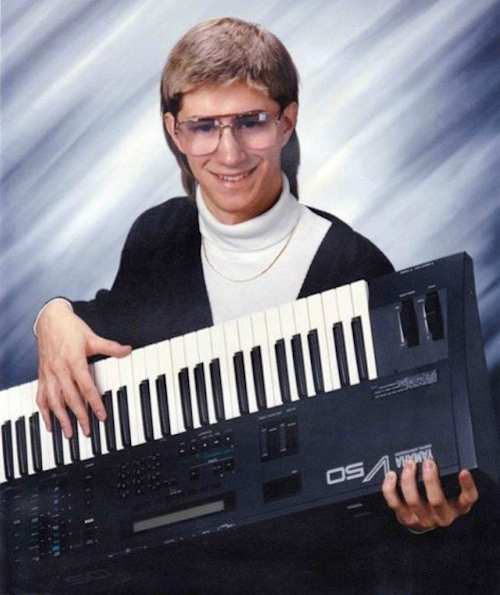 No matter what you buy your loved one, when they know that you understand just a little about the geeky world of synths – they will feel loved and accepted for who they really are. I hope you found this list helpful and it puts a Smile-tooth-wave on their faces.
Merry Synthmas to all, and to all a good night