Coming soon we'll be running some regular blog posts going through the ABCs of each department, but to kick things off I've put together the ABCs of Promenade Music.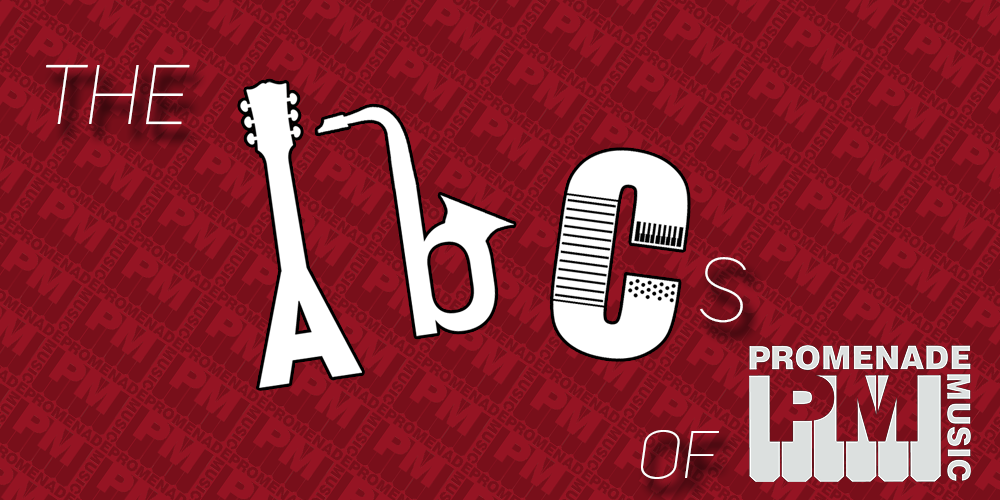 A – Acoustic Guitars
Located on the ground floor, on the right as you walk in, our acoustic guitar department offers loads of choice from Martin, Tanglewood and Ovation as well as boutique brands such as Maestro, Atkin and Northwood.
See also: Accordions, Alto Saxophones
B – Boutique Brands
Whether you're looking at acoustic guitars, electric effects pedals or amps, we've always prided ourselves on having something a bit different to the big boys. From Maestro Guitars (we were the first UK retailer to stock them) to ThorpyFX pedals, you'll always find something a bit different.
See also: Bass, Banjos, Bodhrans
C – Closed on Sundays
We have never been open on Sundays, and we probably never will.
See also: Classical Organs, Classical Guitars, Cymbals
D – David Wood
The gaffer. David opened the shop back in July 1989 after the closure of Harker & Howarth where Morecambe's Wetherspoons now stands.
See also: Denise, Drums, Double Bass
E – Electric Guitars
Located downstairs via the keyboard section on the left as you walk in. We've got electric guitars for all styles and all genres, but not all talents.
See also: Elixir Strings, Electronic Drums, Electro-Harmonix
F – Friday is still Gary's Day Off
Although he's had the same day off for over 20 years, some of Gary's regular customers are still shocked to find out that he's not in on a Friday!
See also: Faith & Hope, Fender, Faith
G – Grand Pianos
While we often have a couple of grand pianos out in the shop, you'll find more at our piano showroom next door to our warehouse. To visit, give Steven or David a call on 01524 410202.
See also: Gary, Gift Vouchers, Glockenspiels
H – Harmonicas
When you've run out of gift ideas for a musical parent or partner, the trusty harmonica is there for you.
See also: Hammond Organ, Hires
I – Interfaces
If you want to record your music at home, then you'll need an interface. This essentially means that you can plug your instruments into your computer to record. We've got loads of different interfaces in stock from top names such as Tascam, Roland and IK Multimedia.
J – Jazz Guitars
Not quite an acoustic guitar, but not quite a full electric guitar, jazz guitars fall in bewtween the two. Popular with blues and jazz players, jazz guitars tend to be steel-strung, have a soundbox, arched top, f-holes, floating bridge and have one or two humbucking pick-ups.
See also: Jackson
K – Keyboards
Keyboards offer the perfect balance between performance, price and portability. Most come with built-in speakers, a number of built in sounds and some even have built-in learning tools that are perfect for beginners to practice and experiment away from their teacher.
L – Lessons
Upstairs at Promenade Music, we have a number of teaching rooms set up for guitar lessons, keyboard/piano lessons and singing lessons.
See also: Line6
M – Microphones
Microphones come in all sorts of types. From small diaphragm and large diaphragm condenser mics, to super sensitive ribbon microphones it can be a minefield knowing what the best mic for your needs is. Luckily, we've got a Rossi who will be able to tell you the best microphone for your requirements and your budget!
See also: Marshall, Mandolins,
N – Not More Music
Although we've been located at Marine Road East since 1989 and More Music Morecambe have been situated in the West End since 1993, it's surprising how many people we still get coming in asking where the exhibitions or performances are.
See also: Nord, Nylon String Guitars
O – Organs
We've been suppliers of organs for years and have assisted in the installation of classical organs in churches up and down the country. If you fancy an organ but don't have a church, don't worry, we have a wide range that will comfortably fit into whatever space you're working with.
P – Pedal Steel Guitars
When he's not playing bass, our Gary is also known to play a bit of pedal steel guitar. Probably because he can play it whilst sat down!
See also: Plectrums (there's loads downstairs),
Q – Quarter Size Guitars
Guitars aren't just for big people. If you're a child or a borrower, quarter size guitars are the perfect place to start.
See also: Quarter Size Violins, Quarter Size Cellos,
R – Restringing Instruments
If you're not sure how to restring your instrument, or you can't be bothered, we offer a restring service on most stringed instruments.
See also: Recording Equipment, Recorders, Rossi
S – Since 1989
For over 30 years, we've been THE place to go for not just local musicians, but for national and international musicians too!
See also: Steven Wren, String Sets
T – TonewoodAmp
Despite the name, TonewoodAmps are not actually amps, but effects units for your acoustic guitar that don't require amplification. We were amongst the first UK suppliers of these accessories.
See also: Tubular Bells, Tenor Saxophones, Tommy
U – Ukuleles
Its distinct sound and accessible format has made the humble ukulele more popular than ever before! The ukulele as we know it took shape in Hawaii, derived from an instrument called a machete that was passed on by Portuguese immigrants. It's commonly found with four nylon strings and smaller body than the acoustic guitar.
See also: Upright Pianos
V – Violins
We're proud to have a diverse range of violins. From teacher recommended Stentor Student II models to Bridge Electric Violins if you're looking for a violin, we'll have what you're after!
See also: Valuations, Violas, Vibraphones
W – Woodwind
Saxophones, flutes, clarinets and recorders all fall under this section of an orchestra. You might be wondering why metallic instruments like saxophones are classed as woodwind – Well the answer is simple, because the sound is produced by an oscillating reed in the mouthpiece.
See also: World Percussion,
X – Xylophones
Not to be mistaken with glockenspiels, xylophones feature wooden bars as opposed to the glockenspiel's metal bars. Xylophones are available as small and diatonic, which are suitable for educational purposes, and as a large chromatic instrument, which is used for orchestral and other professional performance purposes.
Y – You, the Customer
We wouldn't still be doing what we're doing without you, our customers. From the semi pro ordering a new Stratocaster to the student buying a couple of reeds, you're all to thank for us still doing what we love!
See also: Yairi, Yanigisawa, Yamaha
Z – Zithers
The earliest known surviving instrument of the zither family is a Chinese guqin dating from 433 BC. Increasing interest in 'world music' has brought wider recognition to these other zither family members, both ancient and modern. Since the zither requires advanced technique to play anything more than simple tunes, manufacturers attempted to simplify the instrument with various keyboard devices attached to the melody strings and the autoharp was born and has become the most successful adaptation.