Promenade Music are delighted to announce that we are the UK (and EU) dealer Krivo Pickups – Neodymium Powered Pickups for Acoustic Instruments which are Handmade in Portland,Oregon USA

"Marvelous pickups, not only wonderful for playing Gypsy jazz, but for any player looking for a good magnetic pickup for an acoustic guitar"— Acoustic Guitar Magazine, April 2016.

"All in all, these pickups are a great product at a great price and are highly recommended" —Just Jazz Guitar Magazine, May 2014.


Krivo pickups are critically acclaimed, innovative boutique pickups for working musicians hand made in Portland, Oregon USA.

Krivo use only the highest quality components including: vintage-spec Formvar magnet wire, genuine Switchcraft™ and Mojotone™connectors, and expensive audiophile grade Mogami™ cable.

What truly sets Krivo Pickups apart from the competition, however, is the use of neodymium magnets and my proprietary Optimized Microphonics technique. Krivo do not "pot" their pickups in wax or epoxy like the makers of most mass-produced pickups. Instead, they allow a controlled degree of microphonics which allows the pickup to sense vibrations from the top and fingerboard of the instrument as well as from the strings. This allows Krivo pickups to produce a far more natural "acoustic" sound than other magnetic pickups.

Neodymium magnets are very strong which enables me to create very small and thin coils (great for fitting on guitars with low action) while retaining a high output and top-end clarity as well as providing a very clean and tight bass response. The overall result is a much more natural tone with the ability to achieve a very high volume before feedback.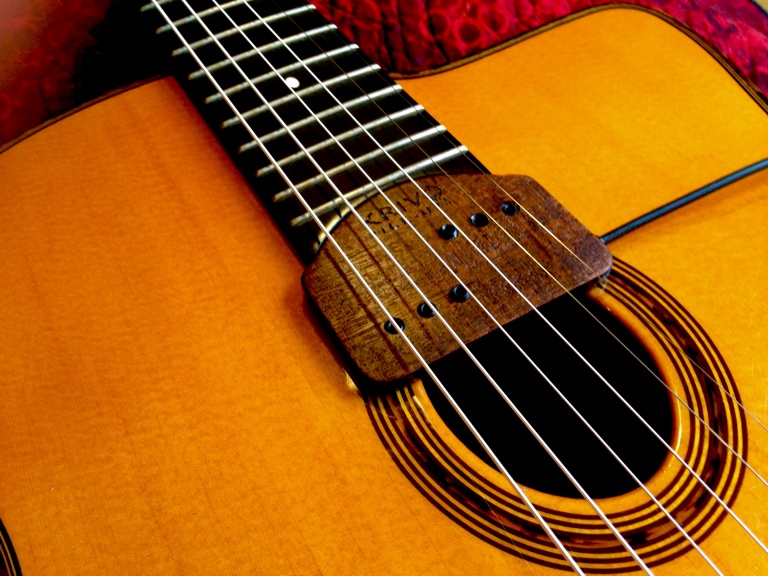 We now have the full current range in stock:
See Krivo's website for more details: krivopickups.com